Marketing and Advertising and Flying Solo
Posted on
"I have more flexibility with my time, I am not wasting money on public transport, we were able to get a dog, I get to exercise more, my confidence has grown, I have the power to help other business owners and to drive my own life forward."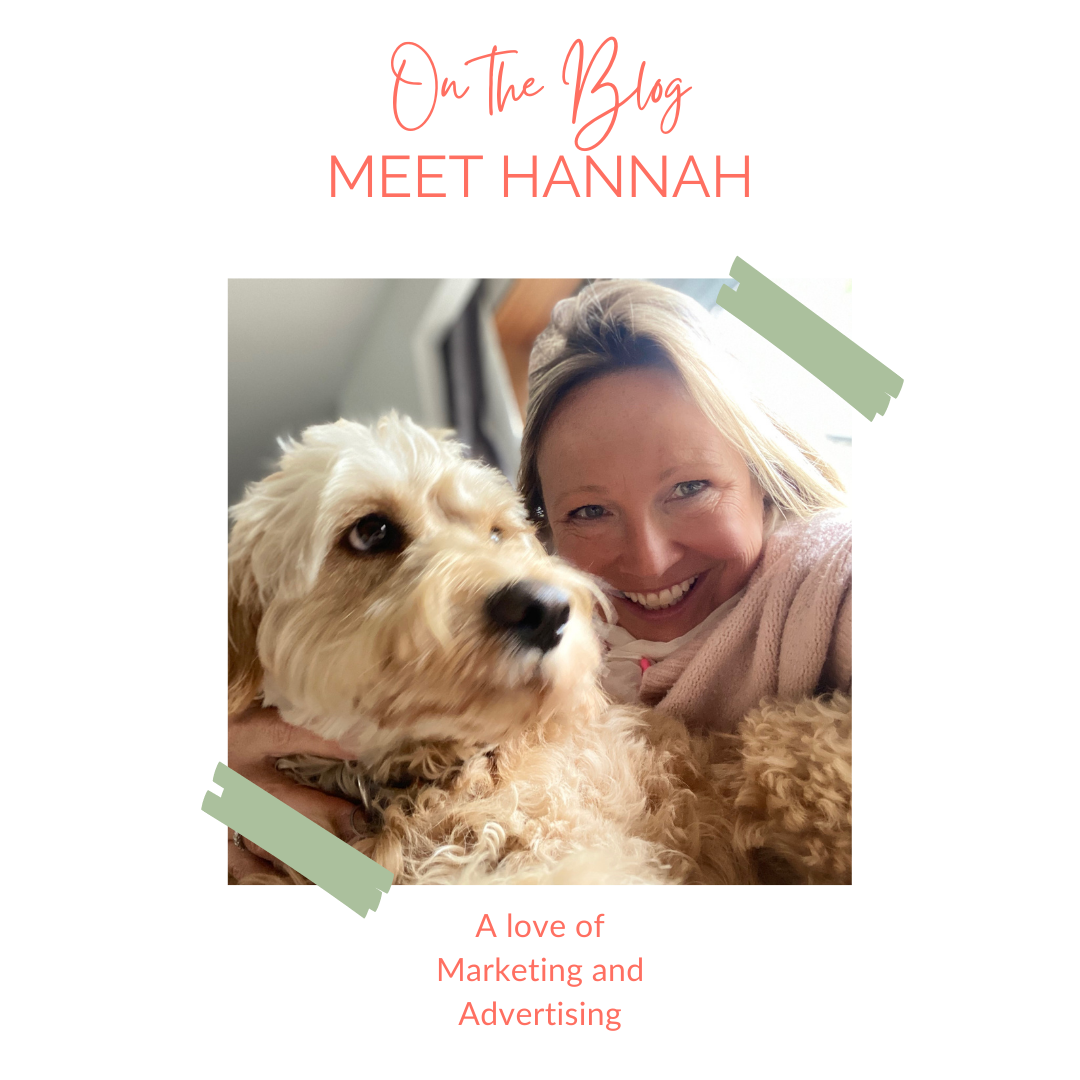 Whilst Hannah's passion for marketing has always been with her, she's moved within the wide scope of the field to fit in with the twists and turns of life over the years, and now loves running her own social media marketing training and coaching consultancy. I think Hannah's innate talent for creativity has played a huge role in her happiness and success in Marketing, and it just shows what happens when you do work that aligns with who you are. Whilst being on the right track certainly makes everything more purposeful, you still need to flex that bravery muscle from time to time! "it wasn't an easy decision and I felt really out of my comfort zone. I took a deep breath and applied for the course."
Tell us a little about yourself – who are you besides the job you do?
I am a Londoner, born and bred however I am only 1% English!
A mum to two teenagers and a gorgeous golden doodle called Nala, we moved to Kent 5 years ago, when I was still commuting into Old Street where I was working in advertising agency. I quickly knew commuting wasn't something I wanted to do for long.
I love creativity, creative thinking and I am a 'forever learner' whether that is doing a course, reading books, listening to podcasts or listening to friends, I love finding out about things and growing my mind and having new experiences.
Walks with my dog, whatever the weather, clear my mind and energise me. I am a keen skier, love pilates and yoga and have continued to invest in my career development becoming an accredited social media trainer and Facebook Ads consultant.
What do you do now?
I run my own Social Media Marketing training and coaching consultancy called HanSocial. Where I work predominantly with a whole range of wellbeing and creative clients helping them to navigate the world of social media to promote, grow and monetise their businesses. I am passionate about mental and physical wellbeing and an art lover and I wonder if this is the reason that most of my clients have been in these areas.
What do you love about it?
I love being able to help my clients to experience a mindset shift, one that enables them to think about their social media content in the same way that they think about the service / experience they provide usually in person. It is such an amazing feeling when I see my clients go from not knowing how to post, what to post, when to post to becoming confident in using the organic social media to advance their business, increasing sales and to having client waiting lists!
What did you do before and how did you end up there?
My passion has always been photography and I have 2 O'levels and an A'Level in it, not because I wanted the certificates but because it gave me access to the dark rooms where I loved to develop my own prints. I found out as an adult, that I am dyslexic and this explained a lot about my visual learning methods and passion for creative ideas and media.
I did a Media and Communication Studies degree and having travelled and lived in Australia I returned to London and 'fell into what was then called, Sales Promotion, and I loved it. I worked with amazing brands, solving problems, coming up with crazy ideas, commissioning things to built, creating radio competitions with Kiss FM, TV shows with MTV, what was there not to like? I worked hard and played hard and lived and breathed the brands I worked on.
Having children meant that advertising agency life wasn't compatible with the life I wanted with two young children so, still passionate about marketing, I moved in to marketing recruitment and then to running a creative school for art directors and copywriters in Brixton. Whilst at the school I had to use social channels to promote the school and work with all the ad agencies who sponsored the school. This led me to discover the 6 months intensive Digital Mums Strategic Social Media training programme. So it was upon completion of this that I set up HanSocial, initially doing social media management and now having continued my professional development I focus on training and coaching as well as Facebook/ Instagram Ads.
Why did you decide to change?
Having moved to Kent in 2015, I quickly realised that a 4 hour round trip commute wasn't going to work with family life and the life that I wanted for us all. Crazily expensive in financial and time terms. I recognised the power of social media and could see that if business owners and entrepreneurs could learn how to use social media properly themselves, that it could be a really cost effective way for them to grow awareness, engage with their audience and make sales whether that be bodies on yoga mats or art on walls.
Where did you start when it came to actually making the change?
Having decided that social media was the area I wanted to specialise in, I started googling social media courses back in 2016, which is when I came across the Digital Mums live learning intensive training programme.
How did you actually make the change? (training, finances, learning etc)
I did 15 hours of learning on the Social Media programme with a live client each week on top of working 4 days a week at an ad agency in London doing their internal recruitment. I couldn't have done this without the support of my husband, children and our childminder.
I stuck the £2,500 cost of training on a credit card and paid it off monthly. It was a great investment and I wouldn't be where I am now if I hadn't gone for it – it wasn't an easy decision and I felt really out of my comfort zone. I took a deep breath and applied for the course. I was actually on holiday at the time and would have missed the application date if I hadn't done it.
Subsequently I have continued to reinvest some of my income on continued professional training, such as becoming an accredited social media trainer as well as accredited social media ads consultant and trainer.
What were /are the biggest challenges? (internal and external!)
Massive time management challenges, trying to keep on top of kids school things, home life, as well as work and study. Internal - most definitely feeling not good enough, self sabotage and imposter syndrome!
What advice would you give your younger self?
Don't' worry so much, realise you are doing great!
Believe in yourself.
How has life changed?
I have more flexibility with my time, I am not wasting money on public transport, we were able to get a dog, I get to exercise more, my confidence has grown, I have the power to help other business owners and to drive my own life forward.
What do you miss anything about your previous line of work?
I miss the office banter, the fun spontaneous drinks and the thought provoking brainstorms and problem solving with a big budget!
What advice would you give to anyone looking to find and pursue a career/job they love?
Make sure that you are realistic about the pro's and challenges that the new career will hold. Rose tinted specs often lead to disappointment.
When you decide, talk about it! Be proud, the more you tell people what you do the more you make it a reality and it also makes you more accountable, possibilities can also come out of what seemed like nowhere!
Depending on your finances, be prepared to do two jobs at the same time …. Or train whilst still working. It's a hard juggle but worth it. Be prepared for the hard graft.
Surround yourself with supportive friends and family – they are key to helping to get you through the transition.
Don't be a wantrepreneur - Idea now – idea in 6 months
Be an entrepreneur – idea now – business in 6 months
I love sharing resources! Are there any resources such as books, blogs, podcasts, courses etc that you'd recommend for people figuring out what they want to do for work and/or getting started?
I found the book 'Purpose' by Jessica Huie interesting as it helps to recognise your power and confidence to design a life you love.
I really love the booked called The Source by Dr Tara Swart which focuses on the power of mindset. She uses neuroscience to show how we can actively alter the way our brains work.
Dr Rangan Chattergee's podcasts are so interesting, they are thought provoking and help us to find our truths and lead the life we want.
Where can people find / follow you? (if appropriate)
My website is www.hansocial.co.uk where there is currently a free 14 page download on How to harness the power of hashtags for Instagram.
Instagram: @hansocial